WELCOME TO DORSET'S
ULTIMATE PARTY NIGHTS
If you're looking to hire a wedding photo booth in Dorset or maybe you need the perfect party photo booth, then look no further. Our photo booths are perfect for weddings, proms and parties.
ULTIMATE PARTY NIGHTS
QUIZ EVENTS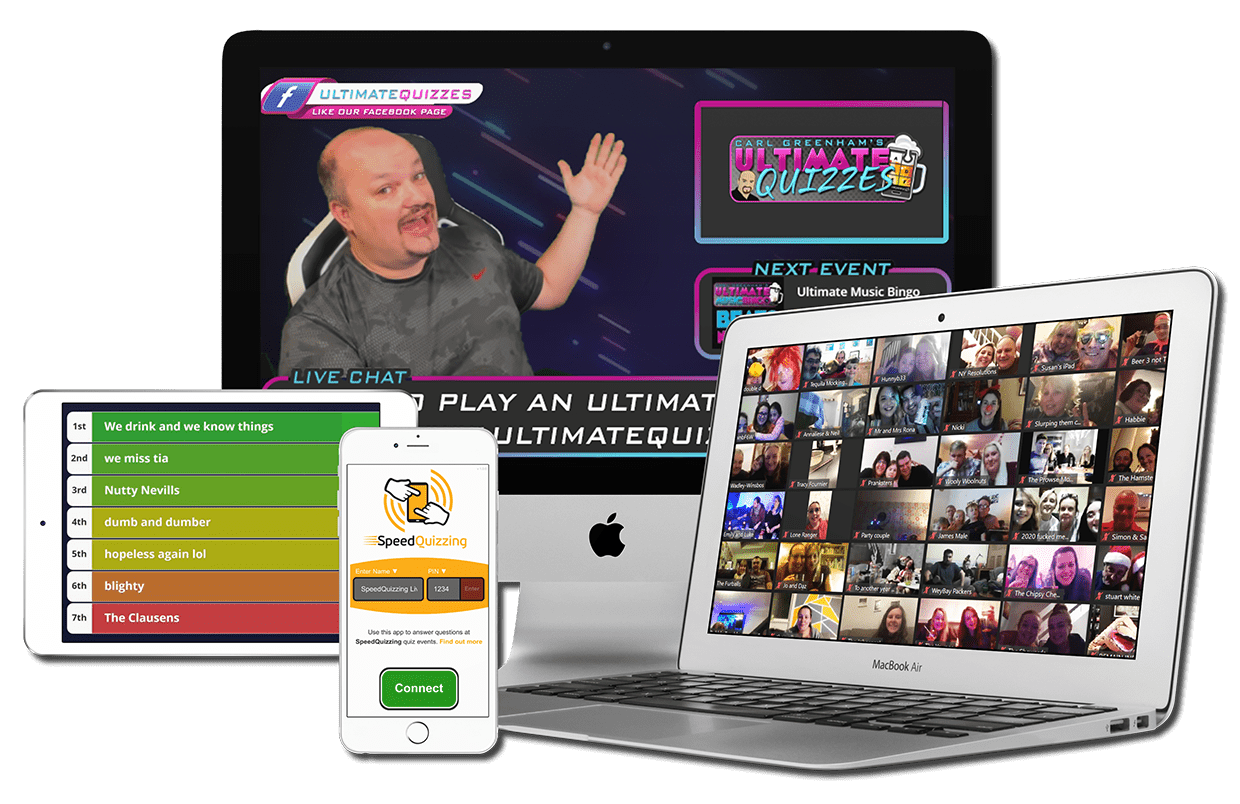 HIGHLY RECOMMENDED
What are people saying about us
ABSOLUTELY BRILLIANT! I ALWAYS USE THESE GUYS AS WE HAVE SUCH AN ABSOLUTE BLAST AND MAKE SUCH HAPPY MEMORIES! YOU WON'T REGRET BOOKING THEM! BRILLIANT ATMOSPHERE CREATES AND SOME VERY INTERESTING AND CREATIVE PHOTOS!
CALLUM AND I PLAYED LAST NIGHT AND TOTALLY ENJOYED IT. ALL WE NEEDED WAS FORDY BEHIND THE BAR AND WE COULD HAVE BEEN IN THE BEST LOCAL PUB IN WEYMOUTH @ FAMOUS OLD SPA ON A SUNDAY. REALLY EASY TO CONNECT. THANKS CARL.
SINCE LOCKDOWN, MY TEAM HAVE BEEN SCATTERED AROUND THE COUNTRY WORKING FROM HOME. CARL'S ULTIMATE QUIZZES PULLED US TOGETHER FOR AN EVENING OF DRINKING AND SILLINESS. THANKS FOR DOING THIS CARL, MY PHONE HAS GONE CRAZY WITH MESSAGES FROM FRIENDS SAYING HOW MUCH THEY ENJOYED THIS.
CARL'S QUIZZES, WHETHER ONLINE OR IN THE PUBS, ARE ALWAYS GOOD FUN AND ENTERTAINING! WOULD DEFINITELY RECOMMEND!
CARL'S QUIZZES ARE ALWAYS FUN AND ENTERTAINING. TO TAKE PART IN A QUIZ ONLINE THAT ENGAGES WITH ALL KNOWLEDGE LEVELS, WITH THE ADDED EXCITEMENT OF THE WHEEL OF MISFORTUNE MEANS THAT THE FOCUS IS DEFINITELY ABOUT TAKING PART AND REMEMBERING TO HAVE FUN IN THESE CRAZY TIMES!
Get in Touch
Contact Us
IF YOU WOULD LIKE MORE INFOMATION ABOUT THE SERVICES WE OFFER, GET IN TOUCH.
ABBOTSBURY PHOTO BOOTH HIRE – BEAMINISTER PHOTO BOOTH HIRE – BERE REGIS PHOTO BOOTH HIRE – BLANDFORD PHOTO BOOTH HIRE – BOURNEMOUTH PHOTO BOOTH HIRE – BRIDPORT PHOTO BOOTH HIRE – CHICKERELL PHOTO BOOTH HIRE – DORCHESTER PHOTO BOOTH HIRE – OSMINGTON PHOTO BOOTH HIRE – POOLE PHOTO BOOTH HIRE – PORTLAND PHOTO BOOTH HIRE – SWANAGE PHOTO BOOTH HIRE – WAREHAM PHOTO BOOTH HIRE – WEYMOUTH PHOTO BOOTH – WOOL PHOTO BOOTH HIRE – YEOVIL PHOTO BOOTH HIRE